If you are looking for tried and true prefabricated ornamental fencing, American Fence Company has teamed up with Ply Gem Fence & Rail and other reputable vinyl fencing manufacturers.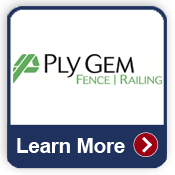 Everyone is concerned about vinyl fencing cracking, chipping and peeling because of our Midwestern hot summers and cold winters. American Fence Company of Iowa City, IA actually uses a product that is right outside of Kansas. This product is exclusively designed for you to be used in Iowa.
We have installed and consulted vinyl fence projects in Iowa City, Cedar Rapids, Mt Vernon, Coralville, North Liberty, West Liberty, West Branch, Davenport, Tiffin, Williamsburg, Washington, Amana, South Amana, Marengo, Wellman, Kalona, Riverside, New Liberty, Tipton, Wilton, Walcott, Eldridge, Bettendorf. Counties: Linn, Cedar, Johnson, Jones, Muscatine, Iowa, Washington and Scott Counties.
Click on our FAQ and Gallery links above to learn more about Vinyl Fencing.